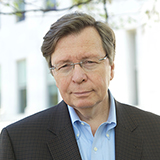 He left a successful career as an investigative producer for ABC News and the CBS News program 60 Minutes and began the Center from his home, growing it to a full-time staff of 40 people. Under his leadership, the nonpartisan Center published roughly 300 investigative reports, including 14 books, from 1989 through 2004, and was honored more than 30 times by national journalism organizations. His fifth and last co-authored book with the Center staff, The Buying of the President 2004 (HarperCollins/Perennial) was a New York Times bestseller.
In 1996, the New Yorker called The Center for Public Integrity "the center for campaign scoops." For example, that year Lewis and the Center issued a report, Fat Cat Hotel, which first revealed that the Clinton administration had been rewarding major donors with White House overnight stays in the "Lincoln Bedroom." In 2003, weeks before the U.S. invasion of Iraq, the Center posted secret draft "Patriot II" legislation, and in October the Center posted all of the known U.S. war contracts in Iraq and Afghanistan. Windfalls of War first identified that Halliburton and its subsidiary Kellogg Brown & Root had received the most money from those contracts, and it won the first George Polk Award for Internet Reporting.
Since 1992, Lewis has traveled and spoken publicly in 21 countries on five continents. In late 1997, he began the Center's International Consortium of Investigative Journalists, the world's first working network of 100 premier reporters in 50 countries producing content across borders. And that made www.publicintegrity.org the "first global website devoted to international exposés."
In 2005, Lewis co-founded Global Integrity, an independent, nonprofit organization utilizing journalists and social scientists to track governance and corruption trends around the world. And from 2005 through 2008, he served as founding president of the Fund for Independence in Journalism in Washington, an endowment and legal defense support organization for the Center for Public Integrity. During that time, he also was a consultant on access to information issues to the Carter Center in Atlanta, a Ferris Professor at Princeton University and a Shorenstein Fellow at Harvard University.
Lewis, once described as "a watchdog in the corridors of power" by the National Journal, was awarded a prestigious MacArthur Fellowship in 1998. And in 2004, PEN USA, the respected literary organization, gave its First Amendment award to Lewis, "for expanding the reach of investigative journalism, for his courage in going after a story regardless of whose toes he steps on, and for boldly exercising his freedom of speech and freedom of the press." In 2009, the Encyclopedia of Journalism cited Lewis as "one of the 30 most notable investigative reporters in the U.S. since World War I."
Articles about Charles Lewis